Arcade Machine Event Hire
We offer our multi-game arcade machines for rental at weddings, parties and other events across South Wales. The machines available are free-play, custom versions of our Mark Ten and Mark Eleven multi game arcade machines with a customised version of our normally coin-operated system that has approx. 100 classic arcade games including Pac-Man, Donkey Kong, Street Fighter II (a few versions) and the Metal Slug series ...
Our machines are available for single day events, such as birthday parties, corporate parties, Christmas parties, etc. Due to availability, we offer either single machine or twin machine rentals only ...
Wedding/Party Hire Arcade Machines
Adding an arcade machine (or two) to your wedding day can be a real crowd pleaser! Whether it's post ceremony, helping to entertain your guests while you work with your photoghrapher of at the evening reception, the machines are great fun for all your guests.
We're happy to liase with your venue or wedding planner so there's as little extra work and stress for you as possible.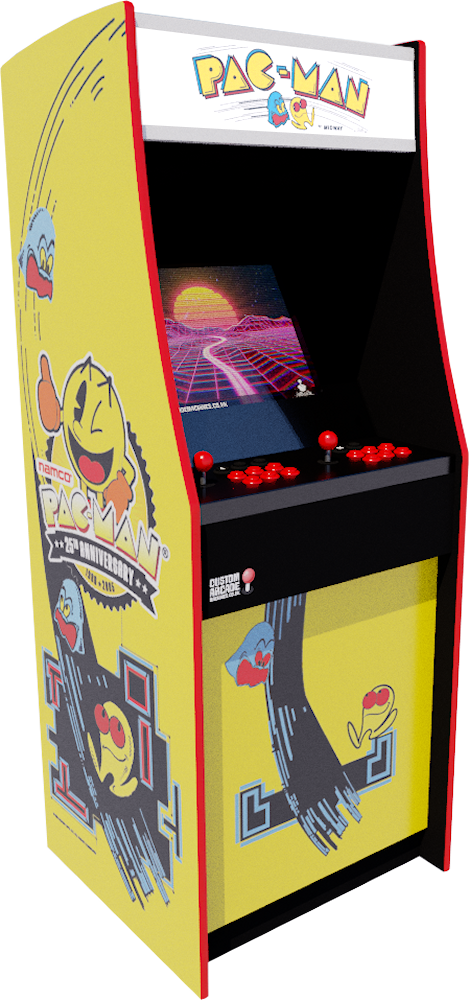 Costs, Terms & Conditions
The prices shown below are based on the rental of our dedicated, upright arcade machines with a free-play version of our coin-operated games system comprising approx. 100 games. The prices are based on rental for a one day event, with delivery/drop off the day before the event and collection the day after the event. Longer rentals are available with prices available on application.
It's possible to rent more than one machine at a time for an event ...
- £275 For The First Machine (One Day Event)
- £225 For Each Additional Machine(s) (One Day Event)
We charge a £100 insurance fee on top of the normal rental costs, returned to you within 7 days of the machine(s) being collected ...
This is to cover any damages that may need to be repaired by us following your rental. We expect some wear and tear so unless the damage is severe, we normally refund the whole £100 ... The machines are meant to be played and enjoyed!! We only ask that no drinks are put on the machine(s) during the rental.
A £100 deposit (per machine) is required to make a booking with the balance to be paid (including the £100 insurance) approx. one month before the event. All payments for rentals must be via bank transfer. We don't accept cash.
Want To Know More?
We can be contacted by telephone (including text) or by Email. If you'd like more information on any of our arcade machine builds please get in touch ...
Call/Text On:
07853 973 507
Over 7500 Classic Retro Games
Or 100 Arcade Classics With Our Coin-Operated System
All our arcade machines are delivered ready to play and fully loaded with over 7500 * great retro games! The very best of the 70s, 80s and 90s, we've included are all the arcade and console classics of the era with all your favourites from the SEGA Megadrive and Super Nintendo and even a selection of Nintendo GameBoy games.
Our machines are designed around a customised version of RetroPie with EmulationStation running on the latest Raspberry Pi computer. Each and every game has been tested by us to ensure it runs perfectly and performs exactly as you remember ...

Call Or Text Us On 07853 973 507 - 7 Days A Week
Email Us At info@customarcademachines.co.uk
Unit 4 Maritime Offices, Woodland Terrace, Maesycoed, Pontypridd, CF37 1DZ
© Copyright 2014 - 2019 Custom Arcade Machines UK - All Rights Reserved