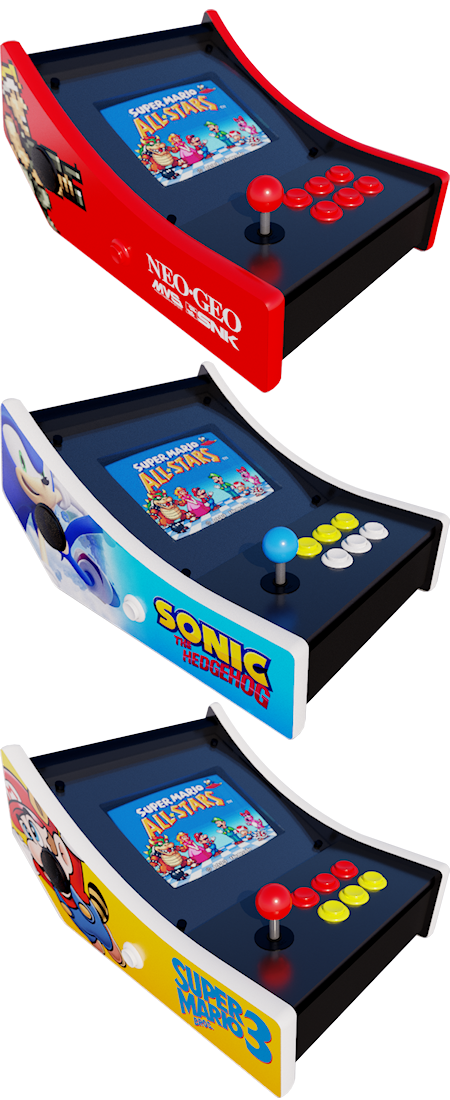 Retrocade TAU
Personal Arcade Machine
From £549.00
Plus Shipping (UK Only)
- Over 7500 Classic Retro Games (Arcade & Console)
- Delivered Ready To Go (Plug & Play)
- Full Warranty, PAT Tested and CE Certified
- Delivery In 2-4 Weeks From Ordering
More colour/finish options coming soon!
Order Now ...
Brand new for Summer! Our Retrocade TAU personal arcade machine is a one player, multi game all-in-one arcade machine featuring over 7500 games from the 8-bit and 16-bit era of video gaming ... All your favourites from the 70s, 80s and early 90s.

A single player cabinet, it is available with a choice of colour/finish options it's sure to suit all tastes. All the controls are commercial grade, making each machine rugged and reliable. The machines are powered by the latest Raspberry Pi running RetroPie and EmulationStation.

All our machines are plug and play with absolutely no setup required after delivery.

We offer a full on-site or return-to-base warranty as standard. All machines are PAT tested and CE certified.
Dimensions
245mm (Height) x 316mm (Width) x 475mm (Depth)

Primary Construction
Fire Retardant MDF (18mm)

Screen
10 Inch 4:3 Ratio LCD Monitor

Sound
Dual Speaker Stereo Sound

CPU
Raspberry Pi 3 Quad Core Linux Computer - 2GB RAM - 64GB Flash (MicroSD) Storage

Controls
1 Player Zippyy Ball Top Joystick and Concave Micro-switched (E-Switch) Buttons
Over 7500 Classic Retro Games
Or 100 Arcade Classics With Our Coin-Operated System
All our arcade machines are delivered ready to play and fully loaded with over 7500 * great retro games! The very best of the 70s, 80s and 90s, we've included are all the arcade and console classics of the era with all your favourites from the SEGA Megadrive and Super Nintendo and even a selection of Nintendo GameBoy games.
Our machines are designed around a customised version of RetroPie with EmulationStation running on the latest Raspberry Pi computer. Each and every game has been tested by us to ensure it runs perfectly and performs exactly as you remember ...

Call Or Text Us On 07853 973 507 - 7 Days A Week
Email Us At info@customarcademachines.co.uk
Unit 4 Maritime Offices, Woodland Terrace, Maesycoed, Pontypridd, CF37 1DZ
© Copyright 2014 - 2019 Custom Arcade Machines UK - All Rights Reserved