We design and build multi game arcade machines for sale across the UK and long- and short-term rentals across South Wales and South West England. With a choice of two different game packages, our machines are suitable for the home, office or commercial environments. Running a customised version of RetroPie and always built around the latest Raspberry Pi computer, our arcade machines are bespoke, hand-made and awesome!
Check out some recent machines of ours below ...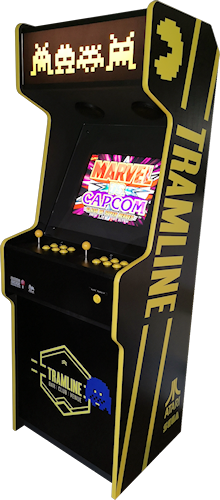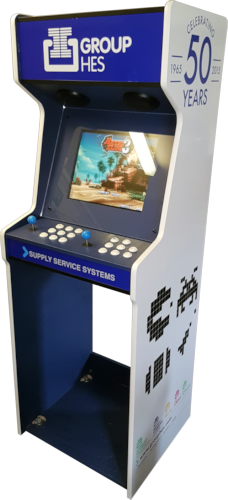 Branded Arcade Machines
Our arcade machines, customised with your business branding. As our machines are all built to order, we offer a degree of customisation with both the cabinet shape and the painted (or vinyl) finish. Our customised multi game arcade machines have found homes right across the UK. A great, fun way to promote your business.
How It Works
Want to know more about our machines, the games, the Raspberry Pi computer we use to power the whole thing? Don't know your RetroPie from your Hyperspin, your JAMMA from your Pandora's Box?
We've prepared a guide to one of our standard machines features so you can get your bearings before ordering ...
Want To Know More?
We can be contacted by telephone (including text) or by Email. If you'd like more information on any of our arcade machine builds please get in touch ...
Call/Text On:
07853 973 507
UK Wide Delivery
We use a dedicated same-day courier service for all our machine deliveries. Our arcade machines leave our workshop headed directly to your home or place of work. We're able to offer flexibility too, ensuring you get your new machine as easily and quickly as possible with complete piece of mind for you.
Over 7500 Classic Retro Games
Or 100 Arcade Classics With Our Coin-Operated System
All our arcade machines are delivered ready to play and fully loaded with over 7500 * great retro games! The very best of the 70s, 80s and 90s, we've included are all the arcade and console classics of the era with all your favourites from the SEGA Megadrive and Super Nintendo and even a selection of Nintendo GameBoy games.
Our machines are designed around a customised version of RetroPie with EmulationStation running on the latest Raspberry Pi computer. Each and every game has been tested by us to ensure it runs perfectly and performs exactly as you remember ...

Call Or Text Us On 07853 973 507 - 7 Days A Week
Email Us At info@customarcademachines.co.uk
Unit 4 Maritime Offices, Woodland Terrace, Maesycoed, Pontypridd, CF37 1DZ
© Copyright 2014 - 2019 Custom Arcade Machines UK - All Rights Reserved