Call Us On 07853 973 507
7 Days A Week
Your Basket Is Empty
Arcade Machines
We offer new multi game arcade machines on a commission (built to order) basis. Fully loaded and ready to run, they're delivered with over 4420 classic games (for our standard models). Upgrade options are available including working coin mechanisms, vinyl graphics and light-up marquees.
STANDARD Arcade Machines
Multi Game | Ready To Run | 12 Month Warranty | Customisation Available
Quality, hand crafted multi game arcade machines featuring our full compliment of over 4420 games. Delivered ready to run and available in a wide selection of colours with many upgrade options from only £699 (plus shipping) for our upright models ...
PRO (Coin Operated) Arcade Machines
Multi Game | Ready To Run | 12 Month Warranty | Customisation Available
Our commercial machines, the PRO range are all coin operated with our custom RetroPie system installed featuring 100 classic arcade games from the 70s, 80s and 90s - A selection of the best from the arcades of the era. The machines load straight in to an attractive menu featuring preview videos for all the games. Our coin operated machines have a dedicated "games menu" button allowing players to exit a game back to the menu at any time ...
CLASSIC (Replica) Arcade Machines
Multi Game | Ready To Run | 12 Month Warranty | Customisation Available
Inspired by the classic games cabinets of the 80s and 90s but bang up to date with our custom RetroPie system and rugged two player controls. Our replica machines feature accurate side and marquee artwork (the marquee is light-up) and our take on the classic cabinet designs ...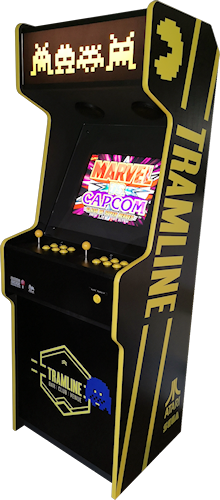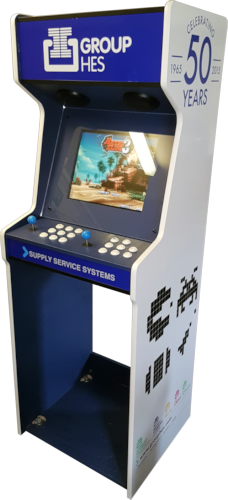 Branded Arcade Machines
Multi Game Or Coin-Operated
Our arcade machines customised with your business branding. As our machines are all built to order, we offer a degree of customisation with both the cabinet shape/style and the painted (or vinyl) finish. Our customised machines have found homes across the UK in pubs, clubs, offices and even a school ...
Over 4420 Classic Retro Games
Or 100 Arcade Classics With Our Coin-Operated System
All our arcade machines are delivered ready to play and fully loaded with over 4420 * great retro games! The very best of the 70s, 80s and 90s, we've included are all the arcade and console classics of the era with all your favourites from the SEGA Megadrive and Super Nintendo and even a selection of Nintendo GameBoy games.
Our machines are designed around a customised version of RetroPie with EmulationStation running on the latest Raspberry Pi computer. Each and every game has been tested by us to ensure it runs perfectly and performs exactly as you remember ...
We design and build multi game arcade machines for sale and delivery across the UK. With a choice of two different game packages, our machines are suitable for the home, office or commercial environments.
Call Or Text Us On 07853 973 507 - 7 Days A Week Email Us At info@customarcademachines.co.uk
© Copyright 2019 Custom Arcade Machines UK - All Rights Reserved